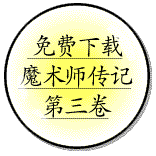 Lives of the Conjurers, Volume Three
• HOUDINI (Part I) The story of the escape artist who became the highest-paid performer in vaudeville.
From his early days as a newsboy, to his years struggling in beer halls, sideshows, dime museums, and other
lowly venues, to his success as the Handcuff King,
to his rise to international fame.
(His fateful encounter with Sir Arthur Conan Doyle and spiritualism, and subsequent campaign against fraudulent mediums, will be the subject of Part II.)
• LARRY WEEKS A master juggler, he dwelt amidst a chaotic collection of magic memorabilia—including the sole surviving copy of The Grim Game, Houdini's lost film.
• MARTIN SUNSHINE Every summer for 35 years, he donned a fez and performed at a resort as Kismet the Magician.
• LUNG TUNG Once the Court Magician to the Empress of China, he had been reduced to passing the hat in hotel lobbies. But he could still hear the sounds of the court and the reverberations of the gong.
127 pages. Illustrated.
Free download of entire book:
lives-of-the-conjurers-vol-3.pdf
(6 MB file)